"Just A Lil' Bit..."
-- July 18th, 2005 --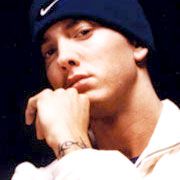 Eminem retires?!!?
Wow... whoddathunkit? He can still lightweight spit that fire, but it's surprising that he said that "Encore" was his last effort. Will we continue to hear blazing 16's from him like
this guy
does?
Wow... I see that a lot of people actually hit me up when I said that I wouldn't be coming back to this place for a minute. I'm still stickin' to the script. It's just that I had some
thangs
on my mind and would hope that the same turnout I had when I said that I'd be on hiatus is the same that I would have now.
I will be in pre-trial tomorrow. For those who don't know the
story
... there it is! I pray that all goes well tomorrow. This has been a year and some change in progress and now it's winding down to the final verdict. If all goes well, K-Star the Great can at least put his feet up and breathe easy. Moving on -- word on the street is that the City is awaiting the arrival of that
power couple
. Well... it's true -- New York City... STAND UP! It'll be almost a year (wow, how time flies...) since I was up there. Geez... last year when I went, my friend Ms. Steele and I were trying to see a free show in Central Park with this
movie star
performing. Lo and behold, he'll be there with a few friends performing for
Black August
.
For those who read this and for those who just glance -- let me take the time to thank you all for taking the time out to view this page, nonetheless. A round of applause is in order!
A special shoutout to
you
. You who are the one who makes things go so smoothly. You are the one who is the driving force behind this powerhouse. As they say, "Behind every strong black man is a strong black woman.." Well, you are all around me -- in front, behind, on both sides, above and below. You are the truth. You have accomplished so much at so young of an age -- have so long to go. You are love. Your goals are attainable and I appreciate so much of what you have given me. The love for you... that I have has never lessened. It is strengthened each and every second while we're together. In so many words...
you
are love...
my
Lady Love, and I love my Lady Love.
What's Next?! --
Pre-Trial... Namecalling... and maybe I'll put that Rhymefest Interview in since it didn't run anywhere. When will it appear? Be on the lookout.