"Aspirations"
-- June 11th, 2005 --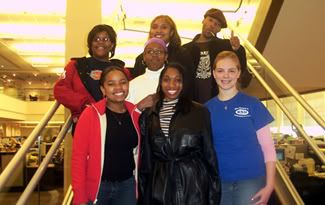 In this life you're damned if you do and you're damned if you don't. In these past two years, I have been blessed to be able to form relationships with people who are doing something with themselves. In some regards, I have been able to do the same. So in that sense, I am blessed as well.
The only fear that I have is... "making it" -- which is interesting because the people who encompass my circle express no fear, only an absolute concrete belief that it is truly a matter of time when it will be what it is. G.P., Blitz, Danya, Kim -- they all in one way or another have their plans in action. I am worried that I will fall short behind those who I am associated with. Excuses are intolerable -- you have read stories or known someone who has been from Smalltown, U.S.A. to make it bigger than big. So with me being from Nowheresville, Ohio -- is not excuse. Knowledge is the thing that I lack. With such an abundance of it in the form of the Internet, books, even television -- I don't know what the problem really is.
In these days and times it is success that is highlighted everywhere. You can look anywhere; music, television, magazines -- it all screams that you have to be a somebody or else you're a nobody. I think that this should trouble the youth of America. It places a value that you have to be a "personality" instead of being an individual. Question: Would you rather be a Doctor or Dr. Dre? Would you rather be a janitor or Michael Jordan? I mean -- honestly, I'd take Jay-Z lifestyle and prestige over going to my college classes any day. But why? How did it become that way? I mean, I love the media -- I love the message that it delivers when it is honest and pure. I believe nowadays the media isn't fair and balanced. Netscape.com reported a few days ago that journalists are a part of the least respected jobs in America. Firefighters and Scientists being the number one and two professions. Now, mind you -- that is
respected
not
desired...


All I would like is to be able to have the focus and discipline to be able to accomplish the goals that I am beginning to set forth for myself... AND... to be able to be respected for it. I do not want to be the one left behind due to ignorance and negligence. I have hangups about a few things in my life aside from whether or not the rest of my existence will depend on having a day job (9 to 5) or will I be living the life of a true entrepreneur. Such as -- will my relationship not be like others in present-day 21st century?
Hardly do you hear about marriages that last -- this world today seems to thrive from negativity. Fights on "Real World," paternity tests on "Maury Povich," random acts of violence on the morning, afternoon,
AND
evening news -- it is like you cannot escape the inevitable. I am only hoping that my relationship does not fall into that same basket. I love my girlfriend, it is to be our anniversary on Sunday. I begin to think to myself, beginning to hope and pray that God has great things in store for her and I and that I am able to make this last. I am a burden to deal with, everyone knows that, and I am trying to work in the best interests of my girlfriend -- and neglecting my own. Is it a sacrifice? Or is it not letting the one you love in? I don't know.
What I do know is that I love my girlfriend and have bent over backwards to make sure that she has a smile on her face. She is my heart. And I love her. I aspire to give her the World.