"The Proof's in the Pudding"
-- May 26th, 2005 --

Hey, for those who hit me up asking where the post is at I will gladly point you in the direction of a link. Common Sense would've told you to "go" find it yourself -- because the truth is out there. Also, We-The-Voices is currently on a hiatus -- so those who love reading it, there will be another update then you'll just have to be patient. Shout out to all those cats doing it on the site -- Panama, Harold M. Clemens, Milos, and the other beautiful souls who write for one of the best independent publications that has come out in a while.

As mentioned below I'm working on a piece about white people being the new niggers -- so we'll see how that turns out. For those who live locally, go head and cop the newest issue of UHURU Magazine (found exclusively on KSU campus) -- it's a nice little publication for some black students to put out. What else is new with the kid? Umm... be on the lookout for the return of those "True" School Hip-Hop artists -- Brand Nubian, Little Brother, and some kid by the name of Rhymefest. Truly after a good showing from Kanye, John Legend, and Common (not excluding Mos, but most people didn't get it -- right now Kweli is on my shit list) -- it's seems like another movement is in the works.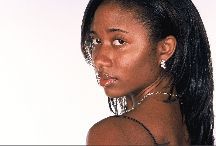 "..so sexy, isn't she?!"
Coming soon, back to the New York area -- myself; K-Star the Great with my partner-in-crime, G-Money the Diva. So, be on the lookout. I think maybe that we'll be in
Brooklyn
around the time (only disclosed to those who are going to be out there with us, nah'mean..). Babe, I love you -- you're doing big things as well as I. I got your back... just as you have mines. I'm your Stedman (aka Jamal), and you're my Oprah. Short, simple, and sweet -- I love you. Keep up the great work! I only ask that you don't forget about me when Larenz Tate and Bryce Wilson are knocking down your door. I love you, Lady Love.
Other than that folks -- continue to be on the lookout for Revolutionary Thoughts.com -- trying to make things happen. But you know what they say -- talk is cheap, the proof is in the pudding!