"A Day in the Life..."
-- April 28th, 2005 --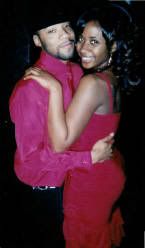 I know, I know -- it's been a long time since I've written in this thing... but... I've been a busy guy. School, working two (as of Friday, it'll be three) jobs, getting some nice interviews and writeups lately. Be on the lookout for a Common interview to be shopped somewhere. Black Child and Beatminerz to follow soon. Also, keep an eye out for
Hood Grown Magazine
-- an upcoming magazine that is not doing bad. Oh... also, for those who are in the know -- listen for that new album from Ghana's son -- BK's own, Blitz. "Double Consciousness" slated to come out soon. First single is to be with dead prez, so I'm psyched about that. Also... coming soon -- be on the lookout for www.kevinclark.com (maybe I need some work on the name). I'm trying to do it big for the '05, leading into the '06.
Like the picture, huh? We make a sexy couple -- kind of like these
two
. She's my rib. I think that she's the greatest. I think that I'm supposed to be writing about me. Selfish bastard, I am. School is almost wrapped up. I've been slippin' in my pimpin', lately. Research paper due, projects due before the end of the semester and I have found myself focusing on other
things
. Nah, not just that -- my days are now kind of on the hectic side. I like it, but then again, I don't.
I wake up at 7 or 8 in the morning. I begin with my home workout plan, then moving onto doing some studying. All the while calling my girl in the morning to wish her a great day and to tell her that she is on my mind. I then check my emails to see what work I have to do for the people I've been blessed with the opportunity to be able to contribute work for. In that regards, I only hope to give my best effort. I am still learning, but I have made some considerable writing progress since Dec. 2004. It'll soon be time for my first class, I get off the phone with my Queen and head to the University. Class is sometimes snoozeville. But all in all, I pay attention, because I generally like the classes and the professor's that I have. After my first class, I go to one of my jobs -- working in the office of one of the local tutoring places. Finally, I go to my last class, afterwards, heading to my house to work on a few articles and homework. All the while talking to my Baby!
This is how it is until Friday. While most people are out drinking, partying, and doing the do -- I am working, STILL!!! Working third shift at a convenient store is NOT the business. But... it's something to use to study while you're trying to kill some time during dull parts of the night. It's like that throughout the weekend. I consider it a gift and a curse. While the money is alright -- making it a possibility for me to do things for myself, my family, and my career. It monopolizes too much of my time -- other people need my attention...
a few people especially!
But in order to do what I do, I must make ends meet. Which brings me to my next thought.
The "law" can be a beautiful thing. It can be a disastrous monster. But right now -- it's a beautiful thing, without going too much into detail. But refer to
this
for those who came too late.
Lastly, I would like to say that I had said that 2005 will be a beautiful year for me and it has been that so far. I am blessed. I am becoming more spiritually inclined, continuing to be more deeply linked romantically to you-know-who, and establishing a career plan for myself more and more each day. It's all about a day in the life of your's truly. Peace.
*Any ideas for a name for the new home of Revolutionary Thoughts, feel free to hit me up at K_Clark2001@hotmail.com. Thanks.