"Challenges of Life"
-- February 7th, 2004 --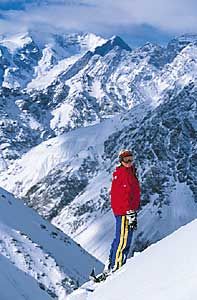 I am a grown ass man. Funny, that for the past four years since turning eighteen that going into my twenty-second year that I would make these strides into my life. It's hard when you are worried about failing. It makes you stronger... or does it? I mean I can throw balls to the wall just like anyone else when push comes to shove, but, can I really be a success in a place where the mere object of living there IS to be successful (LA, Chicago, or New York -- take your pick...)...?

Being in a relationship is a unique experience. I didn't think that I would honestly be in this predicament again. It is kind of frightening. Why you may ask? Because I am responsible for another person's heart -- that is a heavy load to carry. If somewhere down the line I act irresponsibly, then -- who's to blame? She gets hurt and that pain lasts a long time till the next person comes along playing troubador trying to get her to love again. Those shoes I have filled and added a couple of inches while being with her -- if you get my drift... And I am not in this relationship to hurt her or see her cry.

As a Black man living in the 21st Century (where's the Jetson cars at?!!?) -- it's increasingly painful to see that responsibilities take a backseat to selfishness and profit. Men cheating on women and vice versa -- all in the pursuit of not wanting to be really be responsible for another person's being. In a sense, being selfish because they're only looking out for self. In this time of racial tensions, war, deficits -- why AREN'T we looking towards each other for some sort of support and appreciation for our being while we're still here on this Earth? The female friends I do have continue to complain about how they can't find any good men who are on their level. Or even those type of Brotha's who will even give them a chance to be in their life, while the man is off looking for a video chick?

All of this is disturbing and I don't mean to get into a rant (insert Dennis Miller here) -- but I don't want to get off tangent about what this post is supposed to be about -- ME.

I used to be in love with a woman who was in love with me -- typical love story. My first everything. Long story short -- that was a dream deferred. Before it continued to grow into its status of being a nightmare, I abandoned ship. Spending the next three years or so to myself, dating, and continuing to grow and mature into the man you see today. For those who frequent my BLOG -- you know that I was searching -- albeit, in vain -- for a soulmate, for a Sista who complimented me in everyway. It was like when you got cockroaches and the light is on -- no one was in sight when it came to women. So, I eventually stopped. A sabbatical. No women. No dates. Nothing. ...Then she came into the picture.

Without going into the details, she's the one who I'm with now. I enjoy the time that we spend together. I invited a feeling into my life that I thought I wouldn't have again. Along with that comes some fear. Not necessarily doubt, but fear. What if time passes and she isn't happy? What if she cheats? What if I do? What if the relationship doesn't work? Having invested so much into already -- time, love, committment, money -- it's hard when you don't reap the benefits. A broken heart is a living death. When you love again -- it is a resurrection of some sorts. I have been resurrected with the single touch of her lips pressed against mines. The work I have done in the last three months has been in a major part to a challenge that I felt that she was issuing me through her accomplishments. I love this woman. I am proud of her. But as a reformed cynic -- old habits are somewhat hard to break.

Like the aforementioned what if's -- there is also the challenge of maintaining the essence of the relationship. It is a constant reminder of why you're doing this -- keeping this person happy. Reinventing the relationship, they would say. Because the reason of why most things fickle is because they've exhausted the possibilities (what Larenz Tate movie is THAT quote from?)... Frustrations, differences, miscommunications -- all these things are going to happen from time to time -- but what happens if time runs out. All these factors do not have answers unless they actually happen. But as a man who is getting older, wanting to settle down (yes, at 22 -- life is hard alone, and it's stupid trying to jump to person to person, trying to see what works...) -- the need to make sure that the selection I have made pans out and vice versa.

The challenges of life are a consistent circle that remains a constant. For example, by handling your business you are able to get through most things relatively quickly -- homework, work on the job, etc. If you do that well enough, you'll court the fancy of a young female onlooker who believes that that is a key essential in being with a man. Now, as a young man and woman in a relationship -- you both must handle your business together and apart in order for your life lived in unison works fluidly. Hardships are a part of that -- nothing is for free, but, if you handle your business... in the end it should all work out, right?!!

I am a Black man in a loving relationship, where my girlfriend thinks the World of me and doesn't see anyone in her sights. A cynic would say that it can only last for a certain amount of time, then she'll smarten up. A realist would say that if things happen to break up the relationship, then, it wasn't meant to be. A REAL Black man would say that I love this woman and I'd be damn if I let a great thing out of my grasp.

The question is... how do you stand up to the challenges?