"Who Do We Thank?!!?"
-- December 9th, 2004 --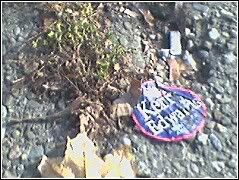 Roughly a month after the November 2nd, 2004 Presidental Election, after countless speeches, conventions, canvassing up and down people's streets trying to get Kerry into the White House...
He
QUITS

...
And George W. Bush's reign of terror continues for the next four years. Someone
CAN
put a stop to it if they have the balls, but let's just go with the idea that Bush is not going anywhere soon. Has anyone else noticed the total revamping of his Cabinet? I mean out with the Old and in with the New, I guess. Bush is making more position changes than Paris Hilton in that sex tape. (I haven't seen the tape... lol)
It is a sad state of affairs that we live in when
THE
biggest Superpower in the World is trying to play Supercop.
Two things that people should see are --
The Secret Evil of 9/11 --
"Click Here"
And...
The Pentagon Strike --
"Click Here"
So... the question is... who do we thank? Do we thank Kerry for making his conscious effort to bow out of a campaign that he couldn't win due to the fact that Bush seemingly was the "people's choice"..? Do we thank Bush for the things that he's going to work on for these next four years? Especially given his track record the last four years, should we thank him for at least being consistent? Do we thank P. Diddy...? He urged millions, as did the rest of the entertainment world, to "Vote or Die." With his shirts ranging from the $35-$47 price range (plus tax) -- how many of you are thankful that you bought one of his shirts? Even so, how many people should even be thankful that he was trying to get your voice (or was it his) heard?
Do we thank the people who voted this past Novemeber. In Ohio, the problem and fear was that those who were convicted felons did NOT have the right to vote. Very few publications or radio stations made that fact know that felons who fit a certain criteria did have the right to vote. This is going to be a very trying four years with this President leading the charge. The soldiers are already feeling the sting. G.I.'s questioned Rumsfield about not having the right armor to be protected as they make for their excursion (one-year long excursion) north of Iraq. Do we thank the Secretary of Defense for making our soldiers safe in the middle of enemy territory?
With all these changes happening both here and abroad, who are we to look to in order of seeing some type of glimmer of hope. Things look so bleek that the U.S. are asking for Kofi Annan's resignation? Why? Is it because he detests the war? That he is trying to strive for some type of peace in a World that has been deemed with so much corruption and betrayal. I guess that's why the U.N. decided to give him thanks for standing his ground -- by giving a standing ovation. Not something that hadn't happened since Bill Clinton went to speak during the "Lewinsky scandal".
In closing, are you ready for what is going to happen in these four years. The disenfranchised are going to be impoverished more if there is nothing to supplement some sort of income to those who are in need. Where have all the "champions" for a just cause gone? P. Diddy wanted to be a political activist, yet, after the election he's went on to try and conquer some other business endeavor that is going to benefit lining his pockets. All those who have the power to enlist some sort of change in American life, have become mute since Bush has won the election. Do we thank them for really showing us that there really aren't anymore revolutionaries anymore?