"Speechless"
-- December 16th, 2004 --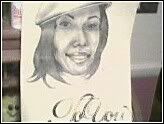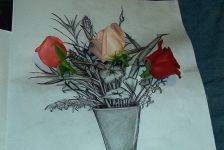 This past year, since the end of 2003 -- at least, I had been ranting and raving about how I couldn't find anyone who was a young, attractive, driven, Black female who was on the same level as me. Some tried... all failed to find a place even remotely close to my heart. I spent 2004 giving advice to friends about what they can do with their relationships, et cetera, earning the nickname -- The Black Dr. Phil. All the while thinking that something might've been wrong with me, that maybe I didn't exude enough confidence that they needed or that I wasn't the type that is popular nowadays in 2004. I wasn't a bling-blingy person, like I used to be in my High School stages. No need to wear a chain with a medallion piece or have a overly-extensive wardrobe. I felt more comfortable in sweats and a tee or in jeans and the same. Didn't fit into the whole "pretty boy," "baby face" category. I mean when I
DON'T
shave you can add on about five or six years to the age that I am (i.e. -- 22 now, don't shave, think 27-28).
So I stopped. I stopped with the dates. I tried to even stop complaining about not having anyone because it was no longer worth my time. That was the only concern in my mind at the moment -- time. Lack of it, wanting more of it, not being able to do all of what you want to do once you have enough of it -- it became my drug. It became my saving grace. I had learned more about myself through having the time needed to grow into myself and dedicate more work to a work in progress. Sure, there are times just like any man or woman would tell you when the best thing in the World is the inviting smile of another who is feeling your style. There were episodes in which I was indeed rubbed the wrong way by females actions because I was more than confident in my own person and believed that they suited me and that they should be on this side of the fence... where the grass is greener. But alas, that was not to be so...
So... I stopped... It was a liberating experience. Time had passed and I came across this beautiful young lady, whose drive and dedication was incredible. I guess that that is one of my turn-on's. I was really feeling her. The vibe was/is definitely there. In a few past entries, most people who've read this know who I am talking about so there is no need for introduction. But I am happy and relieved to say that I am with her in a relationship. Wow... me... in a relationship... It's a beautiful thing to have someone in your life who likes you real hard. I feel the same way. The hard part is always trying to make it last. See, women are smart individuals -- you can try to sell them a dream, but they'll always see through the routine (unless you're one of those bobblehead girls)... I love my Woman's intelligence, I think it's sexy how far she has used her intellect to her advantage. Graduating in two and a half years, landing a well paying gig, a lot of inspiring things that makes me.. as a man.. look at my life. She's a beautiful woman whom I consider my "Jada" -- she makes me feel like I can conquer anything that is in my path.
I really appreciate her being in my life. I understand that the beginning of the relationship is always the high -- but I want to treat everyday like it's the first day that we met. The excitement. All of that. That is my intention is to grow into a better man that I can continue appreciate the Woman that she is in my life and come to see a fruitful future with her walking by my side.